Thanks to XmasX for mentioning that he read a shit-ton of comics a couple of weeks ago. Well sir, I accept your challenge! I too, shall read an ass-load of comics! Our "contest" began 3 weeks ago and has been heated, to say the least. So, now we're keeping a list of all comics read that week. The read off starts every Wednesday(NCD*) and goes through Tuesday(NCE**).
Here's my list from last week(12th-18th), I won't be reviewing my entire list every week...don't worry:
Serenity#1

Dark Horse Joss Whedon/Will Conrad


Judenhass Gn

Aardvark/Vanaheim Dave Sim


Batlash #4

DC Peter Brandvold and Sergio Aragones/Dave Severin


Walking Dead #47

Image (still hate this book) Kirkman/Charlie Adlard and Cliff Rathburn


BPRD 1946 #3

Dark Horse (every "Hellboy universe" book is awesome) Mignola


Evil Dead #3

Dark Horse Mike Verheiden/John Bolton


Abe Sapien #2

Dark Horse Mignola/Jason Alexander (the dude from Seinfeld? no.)


Doctor Who #2

IDW Gary Russell/Nick Roche


Locke and Key #1

IDW (written by Stephen Kings son) Joe Hill/Gabriel Rodriguez


Screamland #1

Image Harold Sipe/Hector Casanova


Cemetery Blues #2

Image Ryan Rubio/Thomas Boatwright


Gutsville #3

Image comics, Puritanical society trapped in the belly of a giant sea beast with art by Frazer Irving!

Avengers Fairy tales #1

Marvel C.B. Cebulski/Joao Lemos


Goon #22

Dark Horse - This comic is the the shit, the writing and art by Eric Powell art top shelf. Check out the definition of the word "Goon": 1921, "stupid person," from

gony

"simpleton" (c.1580), of unknown origin, but applied by sailors to the albatross and similar big, clumsy birds (1839); sense of "hired thug" first recorded 1938 (in ref. to union "beef squads" used to cow strikers in the Pacific northwest), probably from

Alice the Goon,

slow-witted and muscular (but gentle-natured) character in "Thimble Theater" comic strip (starring Popeye) by E.C. Segar (1894-1938). She also was the inspiration for British comedian Spike Milligan's "The Goon Show." What are now "juvenile delinquents" were in the 1940s sometimes called

goonlets. Word.

Simon Dark #5 and #6

DC Writen by Steve Niles(30 Days of Night) with art by Scott Hampton. This book get better with each ish, organized white collar crime with dark occult goings-on in Gothan city.


Lone Ranger and Tonto #1

Dynamite Good comic book, even though the artist likes to put mascara on the Lone Ranger and he can't draw horses none to good.

Iron Fist #13

Marvel Matt Fraction(the Order, Five fists of Science) and Ed Brubaker(Captain America, Criminal) are two of the best writers going! Still one of the best comic books every single month!


The Order #9

Marvel Matt Fraction and Barry Kitson

Captain America #36

Marvel Ed Brubaker, Butch Guice and Mike Perkins. Bucky is the new Cap and it rules!

Dead of Night #2

Marvel Roberto Aguirre-Sacasa and Brian Denham


Astro City Special

DC Kurt Busiek and Brent Anderson


Thor #7

Marvel Micheal Straczynski and Oliver Copial

Iron Man #27

Marvel Daniel and Charles Knauf/Roberto De La Torre


Comic Book Comics #1

Evil Twin Fred Van Lente/Ryan Dunlavey


Rex Mundi vol. 1-4

Dark Horse Arvid Nelson/Juan Ferreyra


Criminal vol. 1 and 2

Marvel Ed Brubaker and Sean Phillips

Blade of the Immortal vol. 1

Dark Horse Hiroaki Samura


Black Panther #34

Marvel Reginald Hudlin/Frances Portela


Astounding Wolfman #1-5

Image Kirkman/Jason Howard


The Sword #1-6

Image Luna Brothers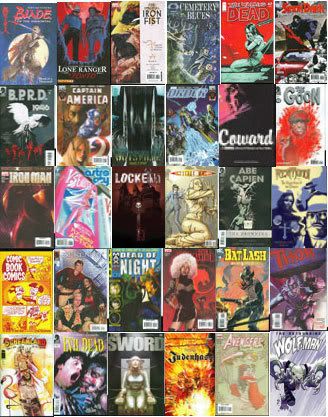 So, that was that crazy week. I'm gonna keep reading mad comics, and reviews proper will start soon. Black Panther read comics...we read comics. Word.
*New Comic Day
**New Comics Eve