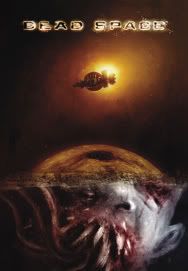 Written by Antony Johnson (Wasteland)
Art by Benjamin Templesmith (If you don't know, get learned.)
If you read
Wasteland,
and you should have, then you will know what to expect from Mr. Johnson. This guy writes, and he fucking writes well. He takes his time and develops a story. He fleshes out everything between A and B and if you can take the time to enjoy it, savor it even, the pay off will be well rewarding.
As for Templesmith, well that guy is just getting better and better with every photoshop layer that goes over his pencils. Lately he has been coming into his game pretty hard. Templesmith has found his element and gone beyond it with
Wormwood
and
Fell
in the last few years. He may not be for everyone, but he fucking should be.
First off,
Dead Space
is a tie in, and we all know how tie in's usually go. Shitty, especially when it comes to video games. Brutal.
Dead Space
shaping up to be something nice, I promise. The story is going to creep on you and then infect your soupy brain with A+ Sci-Fi jargon, some grim murdalizing of space colonists, and some creepy future religious zealots. Oh yeah, and monoliths.
If they can keep it on time, it should be a nice little Sci-Fi/Horror surprise to ring in the spring with.
I give it a lower heating bill out of a wealth of expenses.