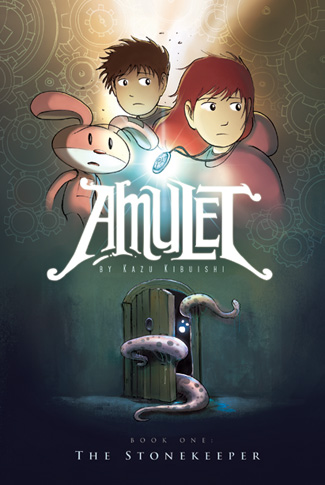 w/a-kazu kibuishi
this comic was so COOL! i was emotionally involved with these characters and expressed myself aloud frequently! I laughed!I gasped! I even exclaimed "OH NO!" when drama went down!the story is about a brother and a sister who relocate to their grandfathers farm house with their mom following the death of their father.Emily the oldest child,finds her grandpappy's study/lab and a portal to a fantastical world.some strange tentacled creature kidnaps her mom,so Emily and Navin (the younger bro.) must find her mom and confront the dark overlord of this awesome world....but they get help from their new sweet robot pals!I AM FLIPPING OUT IN ANTICIPATION FOR VOLUME TWO!!!!!
-the color is phenomenal! kudos upon kudos for the great coloring team that made this book happen.
-great,slightly cartoon-y facial expressions that really made everyone's emotions clear to me.dude,..at one point navin almost gets caught by his mom doing something he shouldn't and the face he makes had me cackling and slapping my knees.
-really cool designs on the buildings and technology.robots awesome..vehicles ill.
-reminescent of "spirited away" and "totoro" but wholly original and individual.
- MR.Kibuishi stopped into our store and was a totally cool and nice gentleman.I really would like to buy him a beer.
PLUS THIS HAPPENS
HOUSE MECH!!!!
I GIVE THIS BOOK 4 OUTTA 4 KIDS IN THE BACKSEAT NOT ASKING IF WE'RE THERE YET!